Hex.38.5 His ancestor bites through skin
I always wondered what the ancestor meant and why he bites through skin. I found this:
The ancestor can be a leader, grandfather, a person of authority in a family, husband, anyone who exercises some control. This is China long ago, feel free to change it to the gender our question is about.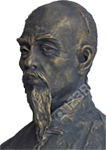 123rf.com
The character consists of 'roof' and 'altar'. It refers to a certain type of thing or person that has a leading role or is the first: sovereign, leader, eldest son, respect, fundamental, ancient emperor temple, an ancient ritual, official title, take charge of the ritual of sacrifice.
The fanyao (corresponding line of the relating hexagram)
38.5 changes into 10.5 if it is 'old yin', 10.5 changes into 38.5 if it is 'old yang': they are each other's fanyao.
38.5 Regrets go away. The clan leader bites through skin. Proceed, how can it be faulty.
Trigram Fire turns into Heaven. Controlling but not too much (just skin, not through hard bone or so).
10.5 Decisive treading. Determination: danger.
Trigram Heaven turns into Fire. Decisive but not too much.
If one of the two is too strong, they will clash. If it is the one in authority (or thinks he/she is) it will be 'faulty'. If it is the one of 10.5: being decisive is good, but it always involves risk; how much depends on its flexibility.