Hexagram 03
Zhūn, beginning, accumulating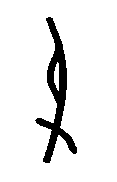 Gua Poem:
Sprouting: Eminent - expansion. Harvest - determination.
No benefit to proceed probing.
Fruitful to install feudal lords.
The great image says: Clouds and thunder: sprouting. A noble one lays out the basic pattern.
("uses the warp threads")
The character zhun is an image of a seedling. It talks about the difficulties of beginning something from scratch, but also how to make use of the new possibilities this involves. In the old times one of the most difficult beginnings was, when a troop of soldiers got stationed somewhere and had to find a way to survive. No food, no lodgings, nothing. They had to forage and start cultivating a field to grow food and also store enough for the winter. More about Zhun.
If you receive Zhun as primary or relating hexagram then find out what possibilities or opportunities are opening up. Try to find helpers; if you have to do this on your own it will be a lot harder.
The trigrams Thunder below Water: nothing has form yet, but there is a lot of energy in the situation. The same goes for yourself, wanting to start but so far without anything you can show. This also means, that there are no limits yet.
If no lines change: either the situation is such that you cannot do anything or change much about it, or there is no need for it and things simply are the way they are.